Learn about the cost of a dumpster rental at Purple Dumpster for all the territories we serve in Toronto and all communities west to Guelph along Highway 401. To calculate garbage bin rental prices, it is a simple formula…
One week garbage bin rental fee + one-tonne load cost + 2nd-tonne fee pro-rated (if needed)
…then add tax and that's your price.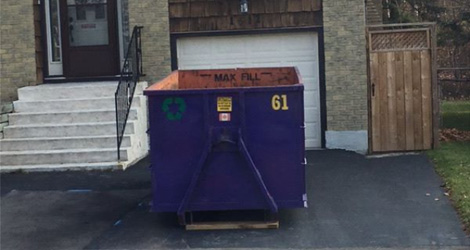 What are the garbage bin rental prices at Purple Dumpster?
Here are the exact cost calculations:
For the rented dumpster for one week
You are billed your first ton at
Weight rates are /ton thereafter
We pro-rate for partial tons.
Add a HST for the government
And that is your final price!
In which areas do you rent dumpsters for the Greater Toronto Area?
Our service areas for garbage container rentals include all communities from west Toronto and Etobicoke west to Guelph and the Wellington County. It includes Hamilton and Ancaster. We also deliver bins to the Peel Region, Halton Region and Hamilton-Wentworth.
In January 2017 we started to service the Durham Region – adding Oshawa, Pickering, Whitby, Brooklin, Courtice, Bowmanville, and all of Clarington and Port Perry.
See our dumpster rental service areas list for specific cities and towns served.
How does the dumpster container rental work when I do a rental from Purple Dumpster?
Here's a step-by-step walk through of doing business with our company:
Give us a all at 905-769-0387 and provide the dates you need the dumpster . The rental period is typically 7 days but we can pick up sooner or provide extended rental periods.
Instead you can book via our convenient Purple Dumpster online bin rental tool.
We will let you know the price on the phone. A basic rental includes a flat weekly bin rental charge, as well as 1 ton initial weight charge (plus HST).
At the time of ordering we ask fo your name, delivery address, home, office or cell number, email address, and delivery instructions (as needed). When we reach you we collect your payment via Mastercard or Visa.
Our dumpster delivery truck drivers are bin rental experts. He or she will deliver a purple bin to your home or business. It is an easy-load dumpster for you to fill at the drop off location.
We will offload it with care on your property ensuring that we do not damage your driveway, landscaping or other external fixtures.  It will be left as per your instructions (or at driver's discretion) so that  you and your cleanup crew can load it quickly and safely.
During the rental period you load it up. Please keep in mind the safety of the people that are loading. It is important to distribute the weight or junk of the garbage evenly across the bin. Do not load it on one side or corner. Check to see that there is no debris or garbage sticking out of the bin or hanging over the sides. The bin is equipped with swing doors so you can walk heavier junk into the container.
Load almost any garbage, junk or unwanted material you want. However there are a few exceptions. You can review our website for a complete list of banned items. Toxic and environmentally hazardous garbage is not permitted. We can also provide you with which materials are restricted when you call us. It is extremely important that you follow the guidelines we provide to keep the everything smooth and uncomplicated during the bin rental period.
Once your bin is ready to be picked up we will arrive on the scheduled day with a truck. The Purple Dumpster staff driver will put the bin on the truck and will take it all away.
We transport the bin to a transfer station where it is weighed and a ticket is obtained. That is your final weight.
Then at the end of the process because you are delighted by the service, low cost and simplicity of the project you become a return customer. Please make sure to leave us a google review as well!!
You might even call us to book your next dumpster rental, refer us to a friend or post a five star review on our Purple Dumpster Google Review area. If you would like to do this now, please take a moment and click here.
Do you have a question about our bin rentals?
If you have one or more questions about dumpster bin rentals please call or email our friendly staff.
How to reach the office that serves your neighborhood with dumpster bin rentals
Call our dumpster rental hotline if you need any advice relating to renting a bin for your home or business including local garbage bylaws relating to clean-ups, disposal and dumpsters. We can be reached at 905-769-0387
If you would like to email us questions, compliments or to ask about an issue relating to your service, please email haltoncontainer@gmail.com
If you would like to schedule a dumpster rental now using our dumpster rental online book form, CLICK here