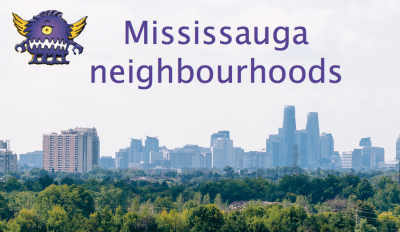 If you are looking for an amazing Erindale or Erin Mills dumpster rental company that services your neighbourhood, and all other Mississauga neighbourhoods, then please contact our team at Purple Dumpster.
Our company's affordable long metal garbage containers are ideal for your clean up project. Whether you live south of the QEW in the community of Erindale, or a little further north along Dundas Street West or in another nearby neighbourhood, we would be delighted to provide you with really reliable service that you have come to expect from local family businesses. Our office is not too far away in Campbellville so it doesn't takes us long to get our purple mini-bins delivered to your curb.
For all junk, garbage and debris removal in Erindale
Purple dumpsters are ideal for garbage or yard debris removal, junk disposal, spring, summer or fall cleaning. We are handy for renovations or construction projects. Some of our renters call us because they want to clear out attics, basement, garages or out buildings on their property. Other clients reach out because they need to remove debris from yard clean ups or home improvements.
Any one can rent our affordable purple dumpsters (some people call them by "mini-bins", "skips" or "containers") and hold on to them for a week. We deliver them, you fill them up and we come to remove them after a week. Or book a 14 day rental if you need them for a longer time.
You pay a single fee for the week and then extra tonnage after the initial ton (one ton is included with each dumpster). Please see our tips page for extra dumpster handling information and tips. If you find a website called Halton Container, that is our sister company. Same great family service!
Contact us at (905) 769-0387 and we would be happy to chat and show you how we can impress you with our great service!