Here are bin rental prices for Guelph. If you are looking for a bin rental for your residential or business clean-up project you'll see our pricing for the Guelph area and its neighbourhoods is affordable and simply calculated below.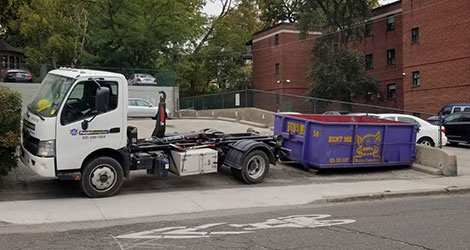 Bin rental prices for Guelph
1 week rental: per week
Tonnage rate: per ton (1st ton)
Tonnage rate: per ton (additional tons, pro-rated)
Taxes are applicable, however there are no additional fees or hidden charges. No gas surcharge or delivery or pickup fees.
Pricing questions?
If you have pricing questions, please don't hesitate to call us or email us. You can reach us through our contact us page.
If you are not far outside Guelph, you are probably within our pricing area, for Wellington County. But if in doubt please call usto confirm.
Why rent from Purple Dumpster?
We are a family-owned company located in Campbellville. We've lived in the community for more than 45 years and we are committed to making our environment and our communities healthy and beautiful. We offer the best rates we possibly can and we provide the highest level of service to our customers.