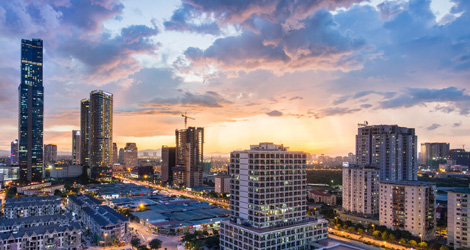 WHITBY, ONTARIO – Purple Dumpster, one of Greater Toronto Area's top rated dumpster rental brands, has expanded into Durham Region to serve customers in communities from Oshawa to Clarington, including Whitby, Port Perry and Bowmanville.
"We are bringing our unique brand of affordable dumpster rentals and great service to Durham Region starting in January 2017," said a company spokesperson.
For more than five years, Halton Container has been operating its Purple Dumpster brand in communities on the west side of Toronto including Brampton, Mississauga, Oakville, Burlington and communities in Peel, Halton and Wellington Counties. It also services Hamilton and Ancaster.
The Canadian, family-owned company provides short term dumpster rental services to both homeowners and businesses. It delivers walk-in easyload metal dumpsters for residential cleanups as well as short-term business use. Bin renters use the containers to load a variety of garbage and debris that is either not eligible to be picked up by public sector waste management services or the volume of garbage is too great to qualify.
Easy dumpster rentals for Durham Region communities
Renters typically opt for a 7-day dumpster rental. Purple Dumpster truck delivers the dumpster to a residence or business. The renter loads the bin with junk, debris, renovation or demolition waste, yard waste, or unwanted furniture or other garbage. The driver picks up  the filled container at the end of the rental period. The period can be shortened or extended as needed.
Purple Dumpster provides a simple rate scale. A bin rental costs a flat price of the one-week rental – it includes pickup and delivery – and one ton of initial waste. If the bin contains more than one ton of garbage, the renter pays for an additional ton or part thereof.
Communities served by Purple Dumpster in Durham
Communities served in Durham Region include: Pickering, Ajax, Oshawa, Whitby, Brooklin, Bowmanville,  Courtice, Clarington,Port Perry and the Township of Scugog.
Further information about affordable dumpster rentals from Purple Dumpster is available at https://purpledumpster.ca/ Or call the company customer hotline at 905-769-0387. Email inquiries can be sent to purpledumpster@gmail.com