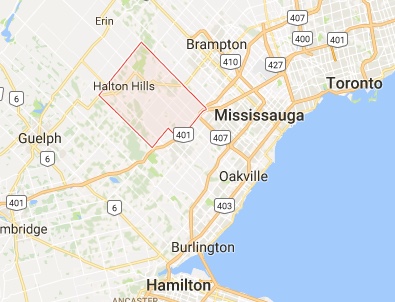 Need a garbage bin rental in Halton Hills or Acton? Here is the information have put together that is specifically designed to help local residents and business people with their dumpster bin rental and garbage and junk disposal needs.
Halton Hills and Acton dumpster rental
We love our customers in the Halton Hills and Acton, Ontario and would like you to join their ranks when you need a dumpster for your home  or business. Our Purple Dumpster rental experts are ready to help you with your cleanup.
Dumpster rentals for your home or business are simple to set up available from us. Our dispatch depot is not far from you, just over in Campbellville. You area is one of the key markets we serve because our trucks are in there regularly.
How does a dumpster bin rental work?
we are sure you have all seen dumpster bins in back alleys behind some businesses. We will rent you a home-sized version of a bin like that that is clean and painted purple. Then, here's how it goes from there:
 You call us at 905-769-0387 and let us know when you need the dumpster and for how long. Or use our online dumpster rental booking tool. The rental period for most projects is usually 7 days long so you choose when it will arrive. We will also book a time and day for pickup up to a week later. (You can ask to have it picked up sooner if needed.)
We let you know the cost to have it delivered and picked from your home or business. There's a flat per week rental charge for the actual dumpster and a 1 ton initial weight charge.
You can pay by credit card or cash.
Our Purple Dumpster driver is a dumpster bin rental expert. He or she will deliver to your Halton Hills area home (or business) a clean and empty 17-foot easy load dumpster.
The driver will place it on your property making sure there is no damage to the driveway, asphalt or pavers or  landscaping and other external fixtures.  It will be positioned where you can easily access it when you load it.
You and your cleanup team fill it over the 7 days of the rental period. Please keep in mind all the time about safety of the people who help you load.
Ensure also that it is not overloaded. Don't pile junk or materials above the top edge of the dumpster bin. Ask our staff if you would like some dumpster loading safety tips. Or ask our experts questions and we would be happy to give you the information that you need to know.
During the rental week you can load in pretty much any garbage, junk or unwanted material you want with a few exceptions. (Be advised: Toxic and environmentally hazardous materials are not allowed. See our do not load list) We can advise as to what materials will not be receivable by us at the time of rental. It is very important that you follow these important guidelines to ensure a problem-free dumpster bin rental. We are required to limit some hazardous materials because, by law, disposal of this material requires special procedures. We can advise you if you have disposal materials that we cannot receive and do our best to refer you to someone who can help.
When the dumpster is full and the rental period is over we will arrive with our truck and the driver will load the dumpster safely into the truck and will drive away.
We take the contents to our sorting facility where we recycle what can be recycled and safely and legally dispose of materials that cannot be within existing bylaws in our cities of operation.
Then at the end of the process you become a return customer. Why? Because you are delighted by the service, low cost and simplicity of the project.
You might even call us to book your next dumpster rental, refer us to a friend or post five star review on our Google Review area. If you would like to do this, please click here.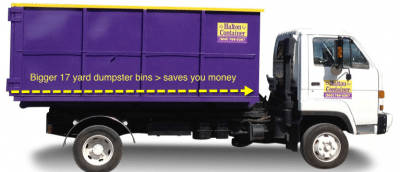 If you have any questions about dumpster rentals for the Acton area, please don't hesitate to call or email.
How to contact our office that services Acton and Halton Hills residents and business owners
For dumpster renting advice and any questions relating to bin rentals for your community, including Acton garbage bylaws relating to clean-ups, disposal and dumpsters, call our dumpster rental hotline at  905-769-0387
To email us questions, compliments or to communicate to us about an issue relating to your service, please email haltoncontainer@gmail.com
To schedule a dumpster rental now using our dumpster rental online booking form
We look forward to serving you!
Related garbage bin articles:
Acton:
Halton Hills:
If you don't see what you need, our staff is ready to help you or provide advice please call us at Purple Dumpster at (905) 769-0387