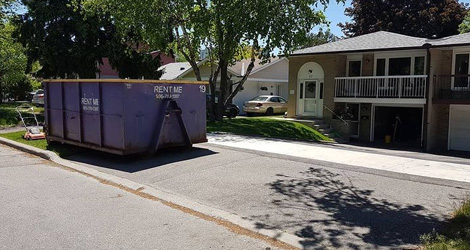 Residential Bin Rental FAQ
Excess residential waste removal is essential to most homes. City garbage removal will not accommodate large loads, so you need an affordable waste removal solution. Whether you do a seasonal regular clean-up, need landscaping waste removal, want to clear yard waste or complete a home renovation project, you'll need a residential dumpster rental. Purple Dumpster can supply your Greater Toronto-Area home (or business) with the equipment necessary to dispose of your excess garbage and waste. Here is a list of questions and answers around residential waste removal services as well as related articles that will help you understand how to rent a bin and why Purple Dumpster should be the bin rental company to do business with for your bin rental.
Who do you provide residential bin rental service to?
Any person or home that needs them, however, these dumpsters are used by contractors, small business and companies that need waste removal.
What geographic areas do you serve with your bin rental service?
We serve all of the city of Toronto, as well as Greater Toronto communities including Etobicoke, Mississauga, Oakville, Burlington, Brampton, Malton, Milton, Guelph, Puslinch and Georgetown. If your community is not listed here, please contact us to see if we service your area.
How much does it cost to rent a bin?
Purple Dumpster offers affordable prices on residential dumpster rentals. The basic pricing is as follows: for the rental per week, per ton with a minimum of 1 ton charged up front plus the HST. There are no hidden fees, delivery charges or added fuel costs.
What size are Purple Dumpster bins?
Our clean and beautiful dumpster is 12'L x 8.5W x 5'H with swing-out doors to make loading faster and easier. We also have other sizes available based on what type of job you're doing.
What is the rental period for the bin offered by Purple Dumpster?
Your residential dumpster rental service is a 7 day window (example: if the bin is dropped on a Saturday it is picked up the following Saturday unless we hear from you). We can offer longer or shorter terms if needed.
Are there limitations on what I can load into the dumpster I rent?
Most household waste including furniture, construction debris and small amounts of yard waste can be loaded into our dumpsters, however there are some limitations. Please visit our list of restrictions or call to be sure.
Do you offer scheduled service?
We do our best to schedule drop-offs and pick-ups to accommodate your needs and schedule. Once you've filled the dumpster, give us a call and we'll schedule a convenient pick up time. We usually need 24 hours notice to accommodate early pick ups and extensions. If you need another dumpster you can order a swap and we'll drop off another clean and empty dumpster when we pick up the full box.
Do you have people who can help load the bin?
We currently don't supply this service but please check back with us to see if it's been implemented yet ☺.
How do I book bin rental?
Pick up the phone and telephone us at 905-299-1024 or email us at purpledumpster@gmail.com – we can answer any question you may have about a residential dumpster rental.
Do you do Saturday deliveries with your bin rental service?
We certainly can do Saturday delivery and pickup if you would like that (although we generally work 1⁄2 days Saturdays and no Sundays).
Do you accept credit cards for payment of your bin rentals?
We accept Visa or MasterCard.