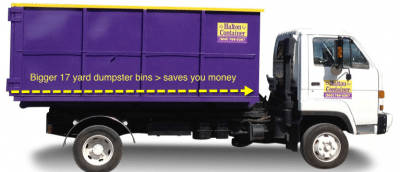 Purple Dumpster wants you to have the best experience when you conduct your junk or garbage removal project with a bin rental from our company.
So here are five tips on how to maximize an efficient, fast and affordable cleanup at your home or office.
Call ahead and confirm your dates and duration of your dumpster rental.
Let our staff know if there is anything specific we should do on arrival at your location.
Call us when you are ready for pick up and set up the pick up ahead of time.
Check out our "no-load" list to ensure you haven't discarded materials that are on our restrictions list
Ensure nothing is hanging out of the bin or that the garbage is not stacked too high
If you follow these handy tips, we will do our best to make your junk clean-up project the best experience it can be.
Please don't hesitate to call us if you have any questions: 905-299-1024. We are here to help!
About Purple Dumpster
Purple Dumpster is your affordable bin rental company. It's easy. You load the dumpster at your home or business. We haul it away. This will take care of your will have your excess waste, rubbish, junk, debris, and unwanted bulk trash hauled away in a friendly and efficient manner. And we recycle where possible.
There's no job too big or too small. We dismantle just about anything and everything. To have your garage, attic, shed or basement cleaned of junk and unwanted debris, call us now! Let us remove, haul, recycle and dispose of your junk today.
Serving all western GTA cities including Toronto, Oakville, Mississauga, Burlington, Brampton, Caledon, Milton, Malton, Etobicoke, Guelph, Hamilton, Ancaster, Erin, Rockwood, Georgetown and Campbellville.
Purple Dumpster is the premier Campbellville, Ontario, Junk Removal and TRASH Hauling Service to haul away your bulk garbage and unwanted junk. We are responsible members of the Campbellville, Ontario community by staying committed to recycling trash debris or donating your unwanted junk and old furniture whenever possible.
Got old furniture, appliances, electronics, tires, construction debris, or yard waste you need to make disappear? Purple Dumpster can take away almost any material we can fit in our trucks.