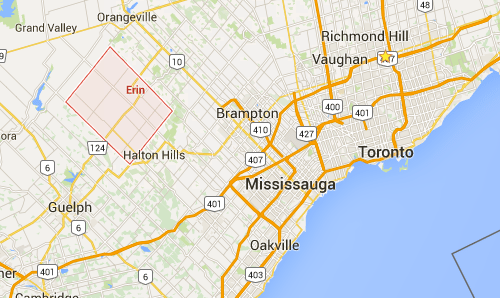 Erin is a beautiful, rural town in Wellington County, about 50 miles (or 80 km)  northwest of Toronto, Ontario (Canada's largest city). Erin is what is called an amalgamated town. It is comprised of the former Villages of Erin and Hillsburgh as well as the hamlets of Ballinafad, Brisbane, Cedar Valley, Crewson's Corners, Ospringe and also Orton. ,It also includes the former Township of Erin.
The town is a rural community however while it is true that farming is very much a key economic activity in the area, most of its residents work in local Toronto suburbs such as Brampton, Mississauga and the city of Toronto. Some also work in Guelph.  The town's is drawing new industries, thanks to a lower tax rate and nearby transportation.
It also is part of the so called Technology Triangle which connects it to high-tech centric cities including Kitchener. Waterloo and Cambridge.